This item does not qualify for free shipping.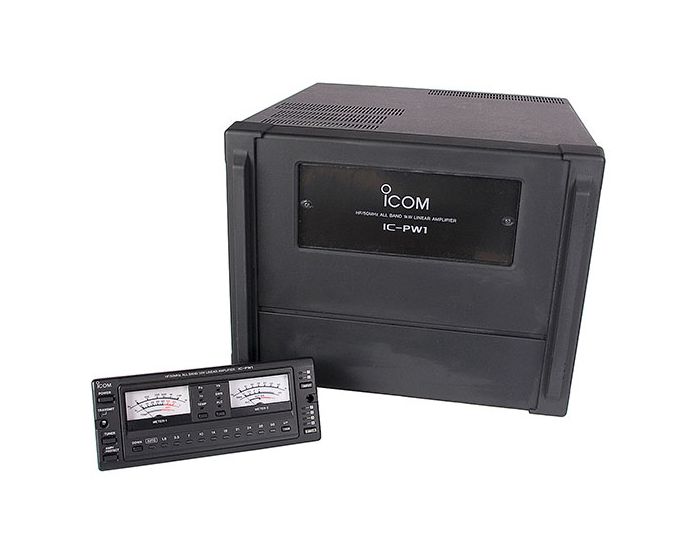 Icom IC-PW1 HF+6m 1kW solid-state linear amplifier
The power you need... to succeed!
Wide frequency coverage with 1 KW output*
All HF bands plus 50 MHz are covered. The IC-PW1 provides a stable, clean and low distortion 1 kW from 1.8 MHz to 50 MHz*. In addition, full duty cycle (even during more demanding RTTY or SSTV operation) and full break -in operation are possible. Great for DX'peditions or contest operation.
*Guaranteed within amateur bands only.
Wide ALC adjustable range
Internal circuitry allows the ALC to be adjusted over a wide range. This means that the IC-PW1 can be used with almost any HF, 6 m or HF/6 m rigs - not only Icom rigs*
*Ask GigaParts about usable exciters.
Compact body
Dimensions, including amplifier, power supply, tuner and controller, are only 350(H) x 269(W) x 378(D)mm* And, because the controller is detachable, the IC-PW1 can be installed almost anywhere in your shack.
Other outstanding features
Automatic antenna tuner built-in
Automatic AC input voltage selector is employed
Current (Ip), Voltage (Vp), temperature, SWR and output power protectors are available
General
Frequency Coverage (MHz)
1.800 - 1.999 3.500 - 3.999
7.000 - 7.300 10.100 - 10.150
14.000 - 14.350 18.068 - 18.168
21.000 - 21.450 24.890 - 24.990

*

28.000 - 28.700

*

50.000 - 54.000
*Inhibited in the US version.
Power supply requirements
180 - 264 V AC or 90 - 132 V AC (single phase; 50 / 60 Hz)
Current Drain
Less than 15 A (max. output at 200 V)
Less than 20 A (max. output at 100 V)
Usable temperature range
-10°C to +40°C;
+14°F to +104°F.
Duty cycle: Full duty
Input connector: SO-239 x 2 (50 ohm)
Output connector: SO-239 x 4 (50 ohm)
Linear Amplifier
Output power
AC Input 180-264V AC 90-132V AC
CW, RTTY 1 kW 500 W
SSB 1 kW PEP 500 W PEP
Driving power Max. 100 W
Spurious emissions
Less than -60 dB (HF bands)
Less than -50 dB (50 MHz)
Antenna Tuner
Output matching range
(tuner switch ON)
16.7 ohms to 150 ohms impedance (HF bands)
20.0 ohms to 125 ohms impedance (50 MHz)
Auto tuning accuracy VSWR 1.5:1 or less
Min. required input power 60 W
Insertion loss Less than 1 dB (after tuning)
Controller separation cable
ACC cables
Coaxial cable with PL-259 plugs