Icom IC-V86 7W VHF HT Reservation
Icom IC-V86 7W VHF HT Reservation
Click to download the IC-V86 Instruction Manual
Click to download the IC-V86 Product Brochure
2M with Powerful Audio
The IC-V86 gives you more audio, more RF power, more coverage and more battery capacity in a compact, MIL-STD portable. With 1.5W of audio power and a new chassis design, the IC-V86 enables users to hear incoming signals in loud, noisy environments. The IC-V86 expands users radios coverage with 7W of RF output power and the new 2250mAh Li-Ion battery pack provides longer operational capabilities.
Output Power: 7.0/5.5/2.5/0.5 Watts
RX Frequencies: 136-174 MHz
Channels: 207 (200 regular, 6 scan edges, 1 call)
Waterproof Rating: IP54
Rugged Construction
The IC-V86 tested to and passed MIL-STD-810 C, D, E, F & G environmental tests. Also meets equivalent MIL-STD-810-C, -D, -E and -F.
Features Include:
Selectable volume level, VFO/memory channel selection control

Integrated VOX function

Built-in CTCSS/DTCS encoder/decoder and tone scan

144-148MHz

7W RF output power

Powerful Audio: 1500mW output and the case is acoustically optimized for maximum audio output.

IP54/MIL-STD-810G

2250mAh Li-Ion battery pack

Traditional BNC connector
** Get in line! Reserve yours today, risk free! **
This radio has NOT been approved by the FCC for sale and this is not an offer to sell this radio. Placing an order for this reservation entitles you to right of refusal on a first-come-first-serve basis when this radio becomes available for sale. Once the radio has received FCC approval and pricing has been announced, you will be sent an email to complete your order. In most cases, reservation holders are offered a lower price than those who place their order after the radio is released.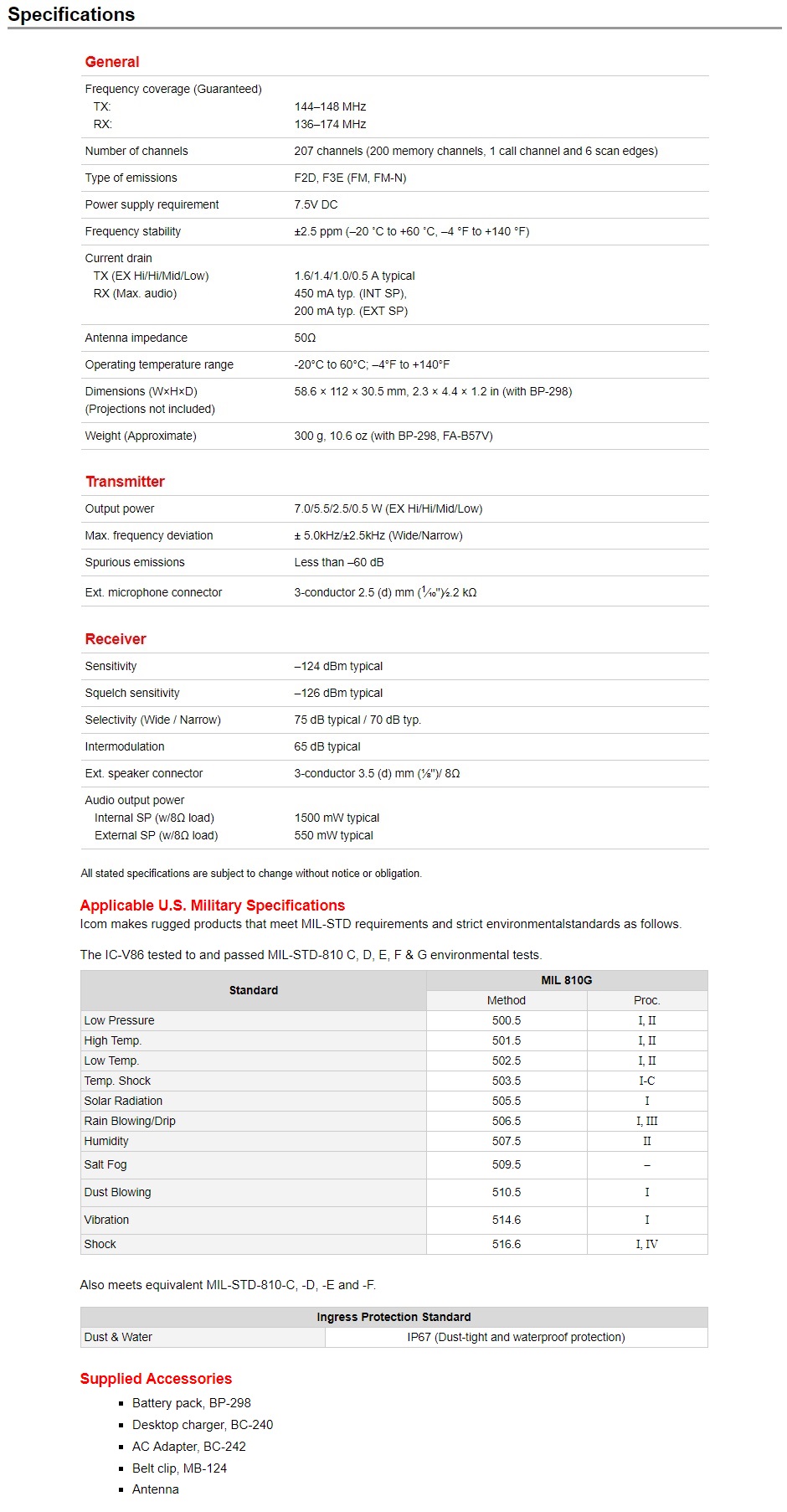 Icom IC-V86 HT
Battery pack, BP-298
Desktop charger, BC-240
AC Adapter, BC-242
Belt clip, MB-124
Antenna