Icom IC-905 VHF/UHF/SHF All Mode Transceiver
Icom IC-905 VHF/UHF/SHF All Mode Transceiver
The Icom IC-905 is a first in professional RF technology for the highest frequencies available to radio amateurs. As is typical for such high frequencies (the IC-905 is capable of operating up to 10GHz, optional CX-10G required), the actual RF technology is encapsulated in a weatherproofed chassis which mounts directly to a mast, as close to the antenna as possible. This is done to avoid cable loss.
To operate the radio, a controller is included in the package that looks and operates in a very similar manner to the IC-705 - via the large 4.3in, color LCD touchscreen. As seen on the IC-705, a spectrum scope and waterfall display are also available on the IC-905. The speaker located on the front of the controller chassis is powerful enough to ensure intelligibility - however, connections on the controller offer the option to connect a loudspeaker microphone or headphones.
In addition to a variety of operating frequencies, the IC-905 offers all common operating modes - SSB and CW, AM/FM, and D-Star with digital voice, as well as DV and DD modes, DD mode with up to 128kb/s. The IC-905 also includes the functionality necessary to act as an access point for D-Star and can operate in terminal mode. D-Star picture transmission is also supported.
If that wasn't enough, the IC-905 also offers FM ATV mode, also known as analog amateur television. AV inputs and outputs are available for this, so an extremely inexpensive analog camera is used (optional purchase). The picture received can be displayed in full-screen on the built-in display.
With the release of the IC-905, Icom blazes a new trail in many areas. Until now, higher-frequency bands such as 13 or 6 cm were only accessible to those with self-built devices. As such, band activity was low. However, operation on the SHF bands has been shown to be very fascinating by many reports about rain scatter on 10GHz, or operation on the QO-100 satellite. Also, even if you aren't able to install a large antenna mast at your home, the IC-905 is compact and lightweight enough to make it ideal for portable operation, such as in state parks or when you decide to take a break on the hiking trail.
With the IC-905 all-mode 144/430/1200/2400/5600MHz and 10GHz transceiver now available, these high-frequency amateur radio bands will certainly see much higher band activity in the future.
Order your Icom IC-905 VHF/UHF/SHF Transceiver from GigaParts today!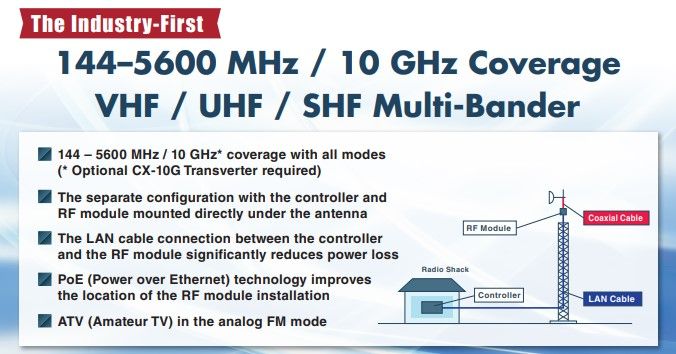 Remote operation of the IC-905 outdoors unit via the IC-905 controller - this helps to reduce cable loss seen at such high frequencies. 
48V power is generated by the IC-905 controller to power the IC-905 outdoors unit. The IC-905 controller requires 13.8VDC input.
Easy USB-C connection is made available for amateurs who wish to connect their IC-905 to their PC.
Large 4.3-inch touch-screen color LCD display
Real-time, high-speed spectrum scope & waterfall display
Easy digital-mode settings
High-performance GPS antenna (supplied)
Full D-STAR functions (DV/DD mode)
ATV (Amateur TV) in FM mode
SD card slot
Operating Bands
144Mhz (2m)
430MHz (70cm)
1200MHz (23cm)
2400MHz (13cm)
5600MHz (6cm)
10GHz (3cm) (Optional CX-10G Transverter required)
Operating Modes
FM
AM
SSB
CW
D-Star (Voice, DV/DD, Picture Transmission)
FM ATV (Analog Amateur Television)
Power Output
144Mhz - 1200MHz: 10 watts
2400MHz - 5600MHz: 2 watts
10GHz: 500 milliwatts
Antenna Jacks
144MHz - 1200MHz: N connector (shared)
2400MHz: SMA-F connector
5600MHz: SMA-F connector
10MHz Reference Output: BNC
GPS: SMA-F
10GHZ is available via the optional CX-10G transverter, which connects via a control cable to the IC-905 outdoors unit.
IC-905 Controller
IC-905 Outdoor RF Unit
Control cable