Alinco DR-638T Dual Band Mobile Commercial Radio
Alinco DR-638T Dual-Band Commercial Mobile Transceiver with Full Duplex Capability - a perfect satellite radio!
The new DR-638T dual-band commercial transceiver from Alinco makes a sharp attractive addition to any operating environment. Starting with full duplex capability, cross-band repeat and a remotely mountable control head, the DR-638T is a solid performer for base or mobile operation. With a highly visible large, 6 character alphanumeric display features variable display colors for custom illumination. Ignition key on/off feature, theft alarm, extended receive capabilities, a variety of signaling and scan modes are also included at no extra cost! The backlit, DTMF microphone EMS-77 allows remote control of the transceiver. Put the DR-638T with its good looks and smart operating features to work right away in your base station or vehicle as a reliable and easy-to-use, high-quality VHF/UHF transceiver that is perfect for simplex and repeater operations!
VHF/UHF full duplex operation includes V/V and U/U modes.

758 channels programmable (HE: available as programmable memory channels)

H/M/L power output settingsVHF:50W/25W/10W/5W,UHF:40W/25W/10W/5W

Large 6 character alphanumeric backlit display

Inversion scrambling (DR-638 only)

Internal duplexer – single antenna connector

Removable control head can be remotely mounted or inverted for optimal speaker placement

Expanded receive range includes AM civil aviation band (DR-638 only)

Crossband repeat (DR-638 only)

Variable Display color tone

Illumninated DTMF EMS-77 microphone allows direct VFO frequency entry and remote control of transceiver

CTCSS,DCS,Tone-Burst Tones,2-tone and 5-tone signaling

CTCSS Tone and DCS scan

Variety of scan modes and priority channel monitoring

TOT, BCLO, Talk Around, Reverse and ANI

Utility software and cable cloning

Ignition key activated power on/off feature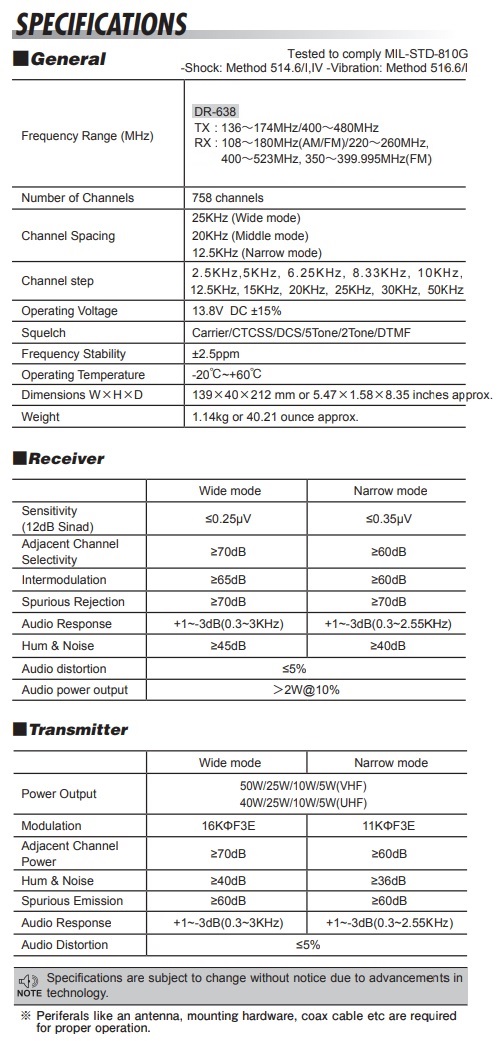 Alinco DR-638T VHF/UHF commercial transceiver
Mobile mounting bracket
DC Power Cable (15A Fuse)
EMS-77 Back-Lit microphone with key pad
Spare Fuse
Mic hanger
User manual