This item does not qualify for free shipping.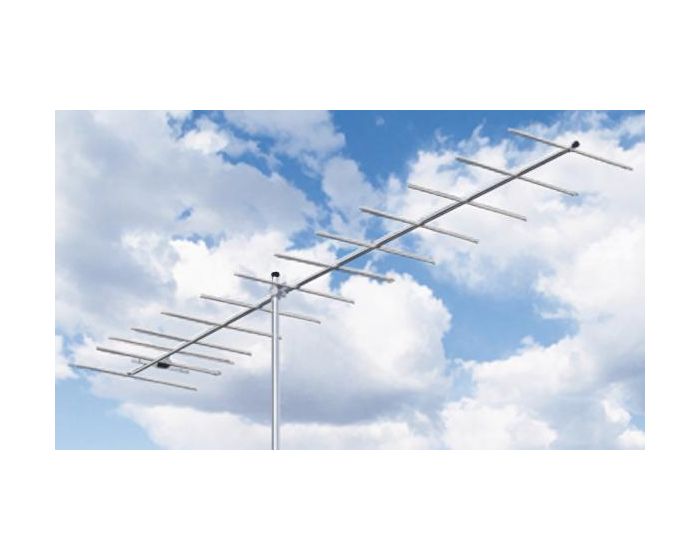 Cushcraft A13B2 Yagi, Monoband, 13 Element 2M, 15.8
The A13B2 is as versatile as the A17B2 is specialized. If you need high performance across the entire 2 meter band, the A13B2 is for you! You will enjoy 15.8 dBi gain on FM, packet, CW, or sideband across the 4 MHz operating range.
Mount this antenna either vertically or horizontally for maximum performance on your favorite mode. Its optimum boom length makes it a popular antenna that fits just about anywhere. The new UltraMatch balanced feed on the A13B2 provides a 50 Ohm match via a standard SO-239 UHF female connector.
| | | | | | | |
| --- | --- | --- | --- | --- | --- | --- |
|   | Model # | Model # | Model # | Model # | Model # | Model # |
| Specifications: | A13B2 | A17B2 | A124WB | A26B2 | A1483S | A14810S |
| Frequency Mhz | 144-148 | 144-145 | 144-148 | 144-148 | 144-148 | 144-148 |
| Elements per Band | 13 | 17 | 4 | 26 | 3 | 10 |
| Gain, dBi | 15.8 | 18 | 10.2 | 17 | 7.8 | 13.2 |
| Front to Back Ratio, dB | 26 | 26 | 19 | 26 | 18 | 24 |
| Side Lobe Attenuation dB | >60 | >60 | 40 | >60 |   |   |
| SWR 1.2:1 Typical2:1 Bandwidth, Mhz | >4 | >2 | 4 | >4 | >5 | >4 |
| Longest Element, in (cm) | 39.75 (101) | 40.75 (103.5) | 40.75 (103.5) | 39.75 (101) | 41 (104.1) | 40.3 (102.4) |
| Turning Radius, ft (m) | 8.9 (2.7) | 17.25 (5.26) | 4 (1.22) | 10.4 (3.18) | 2.8 (0.8) | 6 (1.8) |
| Boom Length, ft (m) | 15 (4.57) | 31 (9.45) | 4 (1.22) | 15 (4.57) | 2.8 (0.8) | 12 (3.6) |
| Electrical Wavelength | 2.2 | 4.5 | 0.5 | 2.2 |   |   |
| Wind Load, ft2 (m2) | 1.8 (0.17) | 3.9 (0.36) | 0.34 (0.34) | 4.84 (0.45) | 0.27 (0.02) | 1.21 (0.11) |
| Max.Power Watts PEP | 1500W | 1500W | 1500W | 1500W | 1000W | 1000W |
| Weight, lbs (kg) | 6.7 (0.31) | 15.75 (7.14) | 3 (1.36) | 21.5 (9.75) | 1.5 (0.7) | 6 (2.7) |