This item does not qualify for free shipping.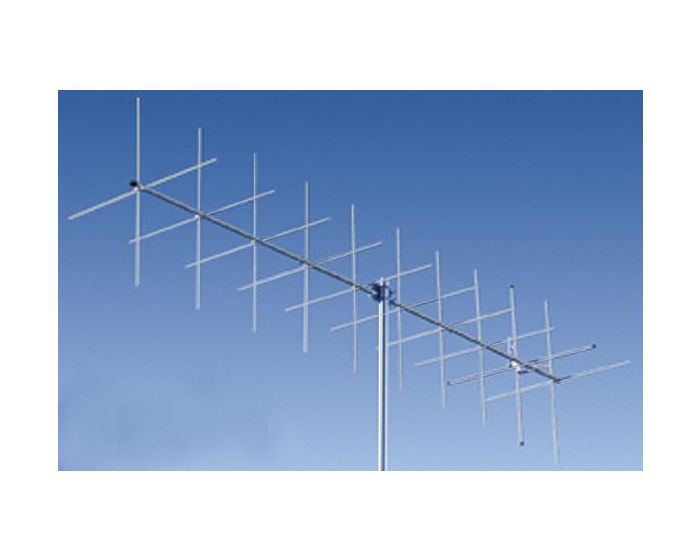 Cushcraft A14820T Yagi, Monoband, 10 Element (2x), 2M, 13.2, Cross-Pole H, V
If you are looking for an antenna that solves your multi-mode problems, look no further. The A148-20T 2 Meter Hi-Lo Cross Yagi antenna features ten vertically polarized elements to cover FM, and ten horizontally polarized elements to handle CW and SSB. It also has separate coax feeds for polarization changes. Comes with stainless steel hardware for protection against the elements.
| | | | | | | |
| --- | --- | --- | --- | --- | --- | --- |
|   | Model # | Model # | Model # | Model # | Model # | Model # |
| Specifications: | A224 WB | A148-20T | A719B | A430-11S | A449-6S | A449-11S |
| Frequency Mhz | 222-225 | 144-148 | 430-450 | 430-440 | 440-450 | 440-450 |
| Number of Elements | 4 | 10/10 | 19 | 11 | 6 | 11 |
| Forward Gain, dBi | 10.2 | 13 | 15.5 | 13.2 | 10.5 | 13.2 |
| Front to Back Ratio, dB | 20 | 24 | 25 | 20 | 18 | 20 |
| SWR 1.2:1 Typical2:1 Bandwidth, Mhz | >5 | >4 | 20 | >10 | >10 | >10 |
| Power Rating, Watts PEP (FM) | 1500 (750) | 1000 (500) | 2000 | 350 | 350 | 350 |
| 3dB Beamwidth, Degrees: |   |   |   |   |   |   |
|              E Plane | 60 | 45 | 24 | 48 | 60 | 48 |
|              H Plane | 88 | 50 | 19 |   |   |   |
| Side Lobe Attenuation, |   |   | 60 | 40 | 30 | 40 |
| dB E Plane | 40 | 40 |   |   |   |   |
| Boom Length, ft (m) | 3 (0.91) | 11 (3.35) | 13.5 (4.1) | 4.6 (1.39) | 2.9 (0.89) | 4.4 (1.35) |
| Electrical Wavelength | 0.5 | 1.6 | N | UHF | UHF | UHF |
| Longest Element, in (cm) | 26.7 (68) | 40.6 (103) | 13.75 (34.9) | 14 (35) | 13 (33) | 13 (33) |
| Turning Radius, ft (m) | 3 (0.91) | 7.5 (2.3) | 7.25 (2.2) | 2.8 (0.85) | 2.9 (0.89) | 2.8 (0.85) |
| Mast Size Range, in (cm) | 1.25-2 (3.2-5.1) | 1.25-2 (3.2-5.1) | 1.25-2 (3.2-5.1) | 1.25-1.5 (1.25-1.5) | 1.25-2 (3.2-5.1) | 1.25-1.5 (1.25-1.5) |
| Wind Load, ft2 (m2) | 0.23 (0.21) | 0.39 (0.11) | 1.2 (0.11) | 0.42 (0.04) | 0.3 (0.03) | 0.39 (0.04) |
| Weight, lbs (kg) | 1.7 (0.77) | 7 (3.15) | 5.6 (2.55) | 4 (1.8) | 3 (1.4) | 4 (1.8) |