Icom IC-7610 HF/50MHz 100W Transceiver
SAVE $250.00
Regular Price: $3,499.95
$250.00 Instant Rebate (Exp. 12-31-2023)
Icom IC-7610 HF/50MHz 100W Transceiver - The SDR Everyone Wants
View the Icom IC-7610 Product Brochure
View the Icom IC-7610 Technical Report - Volume 1
View the Icom IC-7610 Technical Report - Volume 2
Faint signals are no longer a challenge for DXers and Contesters around the world, with the new IC-7610. The difference between putting the QSO in the log or trying another time is the capability of your receiver. The high performance RMDR in the IC-7610 has the ability to pick out the faintest of signals even in the presence of stronger, adjacent signals. The IC-7610 introduces dual RF direct sampling receivers. Achieving 100dB RMDR, these receivers rival that of other top-of-the-line transceivers. The IC-7610 also comes with a high-speed, high-resolution, real-time spectrum scope on a 7-inch color display.
Output power: 100W (25W AM)
RX Frequencies: 0.030-60.00MHz
Receiver type: Direct sampling
RF direct sampling system
The IC-7610 employs an RF direct sampling system, where RF signals directly convert to digital data and then processed by the FPGA (Field-Programmable Gate Array). This process reduces distortion that naturally occurs in the various mixer stages found in traditional superhetrodyne receivers.
The RF Direct Sampling System in the IC-7610 is capable of 110 dB* RMDR. This performance gives you the ability to pull weak signals out of the noise of strong adjacent signals. There is a difference you can actually hear as the desired signal comes out of the pileup!
* Representative value at 2 kHz frequency separation (Received frequency: 14.2 MHz, Mode: CW, IF BW: 500 Hz)
RMDR characteristics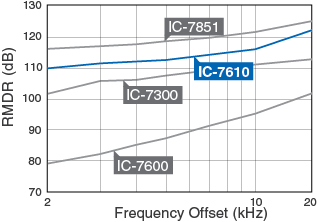 Independent dual receiver
Whether listening to both sides of DX station running split, or looking for a multiplier on a different band or mode, the dual receivers in the IC-7610 have you covered. Two separate DIGI-SEL preselectors, two separate Band Pass Filter networks, feed two separate A/D converters into the FPGA.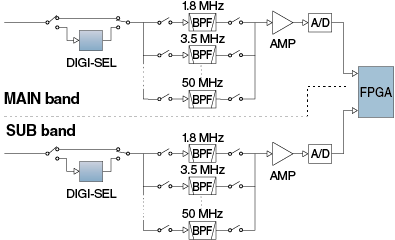 Dual Digi-Sel
The DIGI-SEL preselectors are RF filters with sharp, narrow passband characteristics preventing Analog-to-Digital Converter overflow from large out-of-band signals when sampling the RF signals. Additionally the third and higher order IMD components are reduced. This is ideal when strong signals are received in a contest pile-up or from broadcast stations on adjacent frequencies or bands.
BPF and preselector passband characteristics receiving on 7.22MHz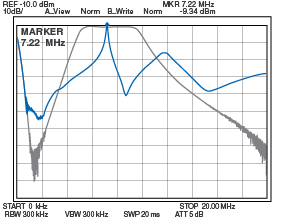 Passband characteristics between the antenna and the preselector (at the preselector output)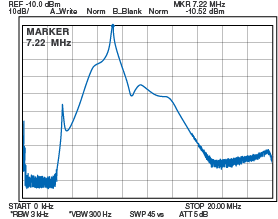 Large color touch screen
The large 7" color TFT touch LCD offers intuitive operation of functions, settings, and various operational visual aids such as dual spectrum scope aligned vertically or horizontally, simulated analog meters and RTTY, PSK31/63 mode decoded messages.The combination of the touch screen and the multi-dial knob offers quick and smooth operation. When you push the multi-dial knob, menu items are shown on the right side of the display. You can select an item by touching the screen and can adjust the levels by turning the multi-dial knob.
Additional Features:

Built-in automatic antenna tuner

Digital-Up-Conversion (DUC) for clean transmit

Dual receivers, dual spectrum scopes

DVI-D connector for an external display

SD memory card slot for saving data

I/Q signal output

Memo pad stores up to 10 operating frequencies and modes

Quick split function

Quick Dualwatch function

RF gain and squelch control with a knob

RIT and ΔTX variable up to 9.999 kHz

UTC/local clock and timer function

1 Hz pitch tuning and display

Dial lock function

Adjustable main dial brake

External speaker jacks for Main and Sub receivers

Screen saver function

Multi-function meter (S-meter, Power, ALC, COMP, SWR, ID, VD and TEMP)

Auto tuning step function

MB-121 included
Be sure to purchase your Icom IC-7610 at GigaParts today!
Innovative RF Direct Sampling System Achieves to 110 dB* (typical) of RMDR
The RF direct sampling system directly converts the analog signals to digital signals, and collectively puts the data through FPGA (Field Programmable Gate Array) processing. The master clock uses a high precision oscillator which excels in low-noise characteristics. This makes it possible to provide superior receive and transmit performance, extremely low phase noise as well as high RMDR (Reciprocal Mixing Dynamic Range). * At 2 kHz frequency separation.
Independent Dual Receiver Receives Two Bands Simultaneously
The sub receiver works independently of the main receiver. The dual receiver is perfect to simultaneously monitor two bands and two modes. Independent AF/RF knobs for the main and sub bands improve usability.
DIGI-SEL Preselector Firmly Shuts Out Interference Signals
Both main and sub receivers are equipped with DIGI-SEL (digital preselector) units. The DIGI-SEL has steeper skirt characteristics than normal bandpass filters, so it rejects out of band strong interference such as broadcast stations, and prevents cross modulation.
High-speed, High-resolution Real-time Spectrum Scope
The real-time spectrum scope of the IC-7610 shows main and sub band conditions. It provides class-leading performance in resolution, sweep speed and a 100 dB of dynamic range. The waterfall screen allows you to find weak signals by showing spectrum change over time. The audio scope function shows the FFT scope and oscilloscope.
7-inch Color Display with Touch Screen Function
The large 7-inch color display shows various operating and setting information at a glance in high resolution (800 × 480 pixels). The combination of the touch screen and the Multi-function control knob offers smooth, intuitive and speedy operation.
Other Features
Built-in high-speed automatic antenna tuner

Newly designed large speaker housing offers superior sound quality, making use of the high-purity received signal

SD card for saving various setting information and recording communications

*

* An SD card is required separately.

Digital IF filter and digital twin PBT for interference rejection

IP remote control capability with the optional RS-BA1

External monitor connection with a DVI-D port
Frequency Coverage
Receiver
0.030 - 60.00 MHz

* Guaranteed range: 0.500 - 29.999, 50.000-54.000 MHz.
Transmitter
1.800 - 1.999, 3.500 - 3.999, 5.255 - 5.405

*  Some frequency bands are not guaranteed.

7.000 - 7.300, 10.100 - 10.150, 14.000 - 14.350

18.068 - 18.168, 21.000 - 21.450, 24.890 - 24.990

28.000 - 29.700, 50.000 - 54.000 MHz
Modes: USB, LSB, CW, RTTY, PSK, AM, FM
Number of channels : 101 (99 regular, 2 scan edges)
Antenna connectors
SO-239 x2 (50 ohm unbalanced (Tuner off))

BNC x 1 (RX antenna In/Out)
Power supply requirement: 13.8VDC
Power Consumption
TX: 23A (at 100W output)

RX: 3.0A  typical (standby), 3.5A (maximum audio)
Dimensions (W x H x D): 13.4 x 4.6 x 10.9 inches
Weight: 18.7 LBS
Output power (HF/50 MHz)
SSB/CW/FM/RTTY/PSK: 1-100W

AM: 1-25W
Receiver System: Direct Sampling Superheterodyne
Icom IC-7610 Transceiver
HM-219 Hand Mic
MB-121 Carrying Handle
DC Power Cable
Fuses
Plugs
Warranty Card
User Manual

Icom America will no longer be including CD Manuals in the box for certain
mainframes. Users can still access and download the manuals on Icom
Japan's website at the following web address:
https://www.icomjapan.com/support/manual/

Below is the list of radios and CD manual removal dates:
- IC-7610 as of June 2020
- IC-7851 as of June 2020
- IC-7300: as of July 2020
- IC-7100: as of July 2020
- ID-5100: as of August 2020