Kenwood TS-890S 100W HF/50MHz Transceiver
SAVE $400
Regular Price: $4199.95
$400.00 Instant Rebate (Exp. 12-31-2018)
Kenwood TS-890S 100W HF/50MHz Transceiver
JVCKENWOOD has finally released the new TS-890S HF/50MHz Transceiver!
FREE Programming and Remote Control Software Available HERE
View/Download the TS-890S operators manual HERE
View/Download the TS-890S brochure HERE
The TS-890S is an HF Transceiver with Advanced DSP.
The most rewarding results often take place when faced with the harshest and most challenging conditions. There are enthusiasts out there who know this all too well owing to their love of HF. KENWOOD has THE answer. Achieve results through certainty, not circumstance. This impeccable receiver delivers and commands an amazing audio performance. This is our offering to you.

• High-speed independent band scope
• RF ATT(OFF/6/12/18dB)
• Noise reduction function
• 7 inch TFT color display
• Heavy-duty design delivers transmitter performance able to withstand long hours of operation.
• Built-in high-speed automatic antenna tuner enabling high-speed operation
• Encode & decode possible with CW / PSK / RTTY
• 120 channel memory
• 3 PF keys
• Screen capture
• Remote operation via direct LAN connection is possible (see KNS in owner's manual)
• Multiple USB connections
• External display connector (DVI-I)
• KEYPAD jack (add up to 8 external PF keys)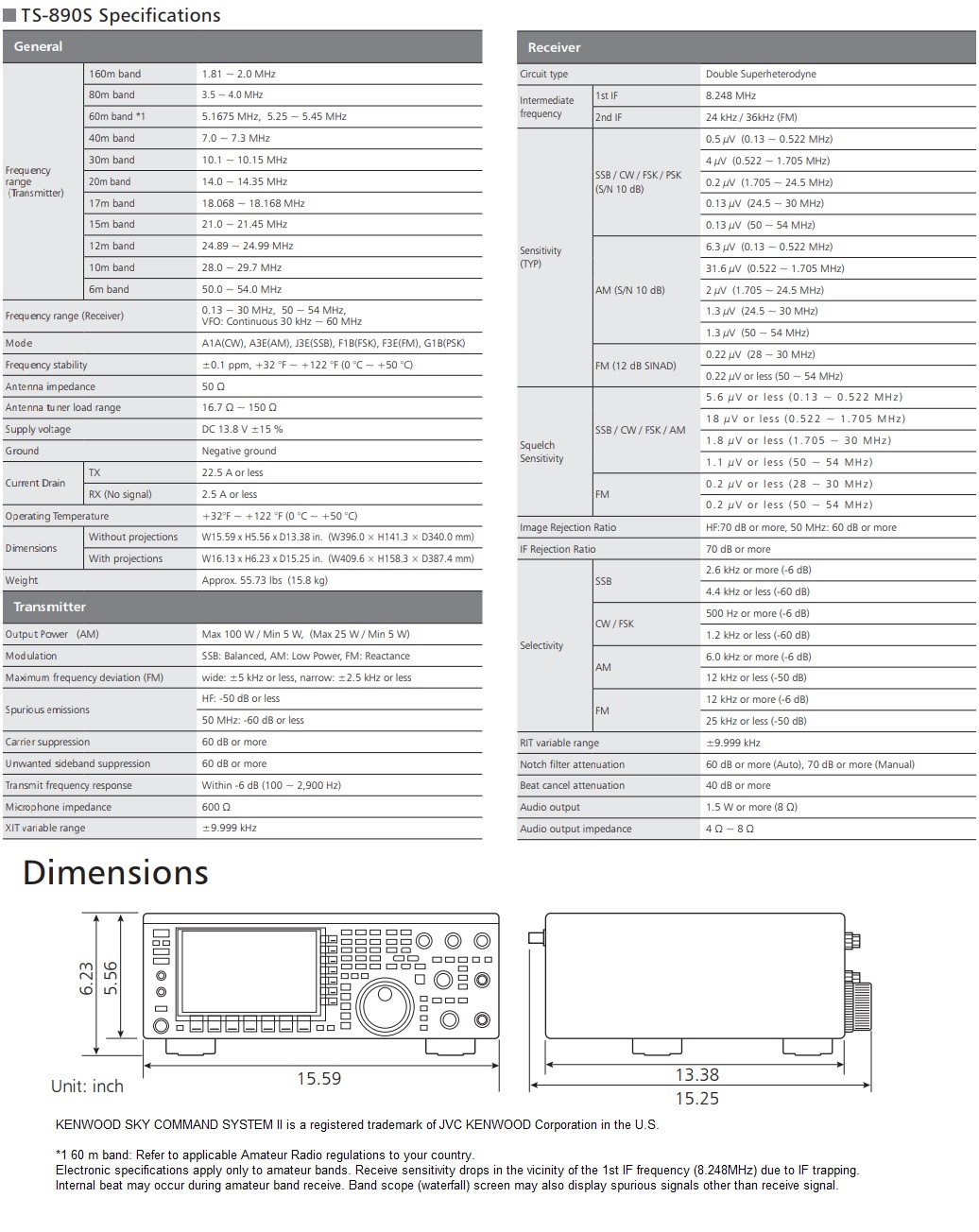 Kenwood TS-890S Transceiver
DC power cord x1
7pin DIN Plug (For REMOTE connector x1)
13pin DIN Plug (For ACC2 connector x1)
Spare Fuse 4A x1
Spare Fuse 25A x1
Operation Manual x1
Warranty Card x1